Analog photographic slides
2013-2015
The project is a tribute to the Rorschach projective psychological test used to assess personality.
The test analyses the functioning of thought, emotional distress, the way one relates to the outside world and one's perception of reality and oneself. The work is subdivided into "tables" made in the darkroom using chemical processes, photographic images and the fast loop projection of upside-down slides. As in the Rorschach test, the intention is to stimulate the observer's perception to see what is dictated by one's mind and by one's emotional baggage.

︎
Il progetto è un omaggio al test psicologico proiettivo di Rorschach utilizzato per valutare la personalità. Il test analizza il funzionamento del pensiero, i disagi affettivi, il modo di relazionarsi con il mondo esterno e la percezione che si ha della realtà e di se stessi. L'opera è suddivisa in "tavole" realizzate in camera oscura attraverso procedimenti chimici, immagini fotografiche e la proiezione veloce in loop di diapositive capovolte. Come nel test di Rorschach, l'intento è quello di stimolare la percezione dell'osservatore a vedere ciò che viene dettato dalla sua mente e dal suo bagaglio emozionale.
Analog photographic slides
2013-2015







Analog photographic slides
2013-2015
RA-4 on emulsified folded paper
50,5×70
2014







RA-4 on emulsified folded paper
50,5×70
2014
RA-4 on emulsified folded paper
50,5×70
2014
Rorschach #05
RA-4 on emulsified folded paper
40x60
2014
Rorschach #04
RA-4 on emulsified folded paper
40x60
2014
Analog photographic slides
2013-2015
Analog photographic slides
2013-2015
RA-4 on emulsified folded paper
50,5×70
2014
RA-4 on emulsified folded paper
50,5×70
2014
RA-4 on emulsified folded paper
50,5×70
2014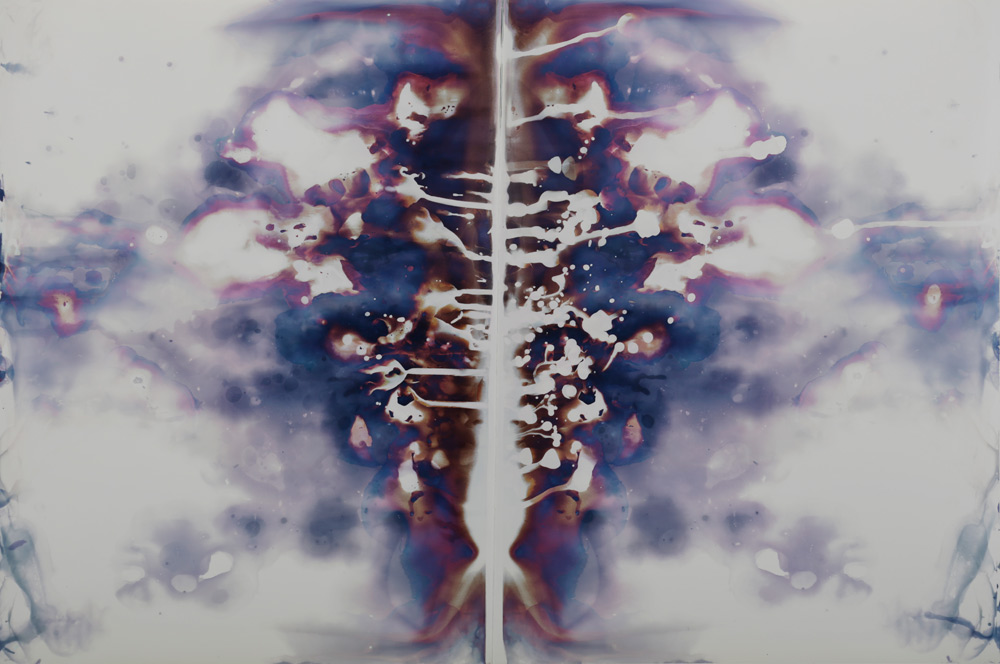 Rorschach
RA-4 on emulsified folded paper
40x60
2014
Analog photographic slides
2013-2015
Analog photographic slides
2013-2015
RA-4 on emulsified folded paper
50,5×70
2014
RA-4 on emulsified folded paper
50,5×70
2014
Rorschach #07
RA-4 on emulsified folded paper
76x95
2014
Rorschach
RA-4 on emulsified folded paper
40x60
2014
Analog photographic slides
2013-2015
Analog photographic slides
2013-2015
RA-4 on emulsified folded paper
50,5×70
2014
RA-4 on emulsified folded paper
50,5×70
2014
Rorschach #06
RA-4 on emulsified folded paper
76x117
2014
RA-4 on emulsified folded paper
50,5×70
2014
Rorschach #02
RA-4 on emulsified folded paper
40x60
2014